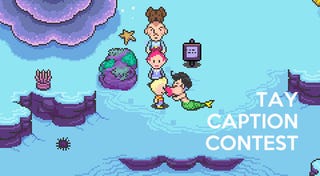 Hello there TAY! Caption Contest here... no wait, I got it wrong, Nach here! Welcome a new Caption Contest.
So after yesterday surprising reaction to this new idea (after Aikage shared it to MainTAY), I may want to make this a permanent thing, but I'm pretty sure I won't be able make it a daily column, my plan for now is to give it a trial run for the first few days and make an announcement next Friday. In the meantime... let's talk about yesterday contest... and of course our winner, First of all, the .gif was part of a New Super Luigi U TV spot that ran in Japan a while ago...
Since Japanese is not my forté I can't say for sure what is going on, but what I can infer is: "Peach is crying for help, but Mario is nowhere to be found... it is time for a new hero to step in... and it's Luigi's time to shine!" that's what New Super Luigi U was all about... a solo adventure for Luigi! Regarding yesterday entries... the majority of them were ermm.... how could I say inappropriate yet funny, still there were a lot of great ones like Aikage or IndigoAsh entries, and of course one of my favorites the caption by SupremeEvan. After checking out of them... and thinking thoroughly I could only choose one winner:
Congrats Kaploy!
——————————————————————————————————————————————
Alright time to move on... and if the header image wasn't weird enough wait until you see the .gif... If you need a bit more context, it's one of the many infamous scenes from the game MOTHER3... (believe me explaining the situation in the game won't make it easier)
3...
2...
1...
.....
GO!